How to Pick an All-in-One Admissions Software
As a cultural organization, the exhibits, shows and events that you organize are an essential part of what you do for your community. Giving them a seamless and pleasant experience when visiting is crucial and one of the easiest ways to improve your patrons' experience is with an efficient admissions software.
If you're ready to start giving your patrons the ultimate experience when visiting, download our free guide to learn more!
Download the guide: All-in-One Admissions Software
Create an ideal experience for visitors, members and donors

Ticketing & Admissions
Issue and validate tickets everywhere, including timed-entry tickets with flexible capacity and contact-free check-in. Eliminate lines and wait times by deploying staff with mobile sales app instead of the hassle of opening a new register.

Point of Sale / Mobile POS
Support sales, memberships, donations and check-in anywhere with a front-desk/front-gate POS and a mobile POS app that share the same inventory for always up-to-date availability.

Reservations & Bookings
Eliminate double bookings and missed opportunities with a 24/7 availability calendar for tours, group visits, parties and other rentals. Easily manage capacity and availability.

Membership Management
Recruit, reward and retain members with meaningful incentives including automatic discounts, members-only hours and events, priority registration and more.

Donations & Fundraising
Request donations at every touchpoint and use custom queries to identify recipients for every campaign. Seamless integration with ClearView CRM (optional) extends and enriches donor and membership data.
Event Registration
Seamless, secure registration and payment for any kind of education or fundraising event with mobile app to manage walkups, update
registrations
and collect payments anywhere.
Watch how we help nonprofits generate revenue and reduce administration.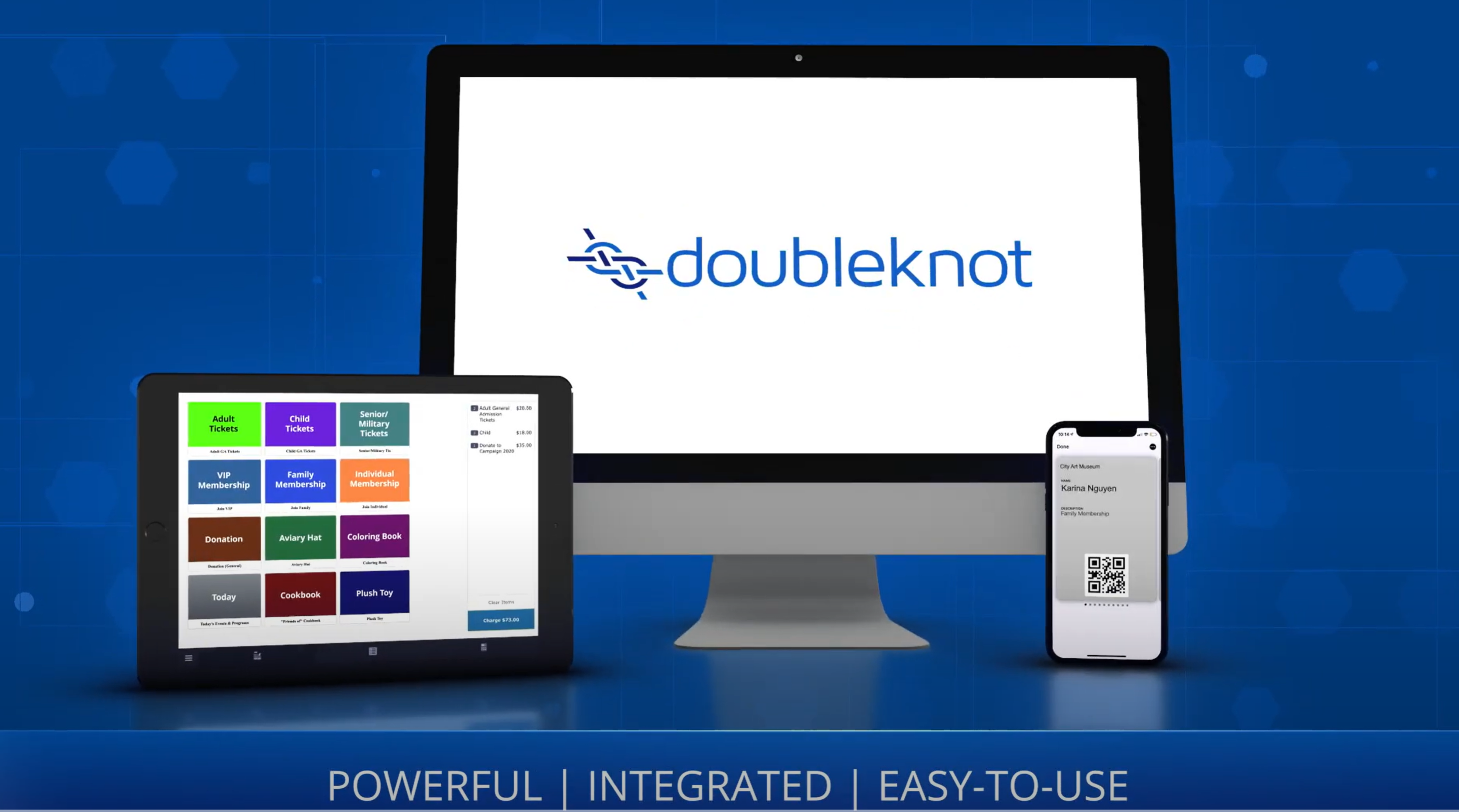 A Single Integrated Database for All Transactions
All data is fully integrated to provide a 360-degree view of your constituents & operations.
Built-in features that can draw on data throughout Doubleknot include:

Customizable Reporting & Analytics
Completely customizable reports can draw on data from registrations, memberships, donations, reservations, ticketing and sales.

Fundraising & Upsell Everywhere
Increase purchases with wide variety of upsell options and promotions, and drive donations with a targeted request at every checkout, roaming donation collection and more.

Custom Forms & Conditional Logic
Collect all the information you need for every kind of registrant and every kind of registration, reservation and membership.
Hit the ground running in 2022! Doubleknot understands the unique challenges faced by nonprofits. Register for a no-obligation demo and ask about our new 2022 Promotion.